Going into the media binge, I thought it would be relatively easy to simply be on social media as often as possible. Initially, I believed that, if anything, I'd just be more informed on some topics I may have not known about beforehand or that I'd just be stalking various profiles of friends and classmates from high school.
However, the reality was much much different than I originally envisioned.
First, I would check all of my social media sites including Vine, Facebook, Snapchat, Instagram and Tumblr. With sites like Snapchat and Instagram, new content to keep me entertained ran out quickly, and after awhile I noticed that despite which site I was on I'd run into older posts I'd already seen before a day--or even a few days--prior to the binge. This got old pretty fast and after a period of time I was bored with the mindless scrolling.
After I checked social media, I'd try to spend time on other sites like the Chicago Tribune online or IMDb. The same problem came up that after however long, I just couldn't focus on what I was reading or seeing anymore. The content of what I was reading could've been incredibly interesting, like the multiple opinion articles on the current political controversy surrounding Rahm Emanuel, but my mind just couldn't take in anymore information (also, and this was just a small observation, my eyes started to kill me after the first day of the binge).
On the plus side, I was able to learn a great deal about the Laquan McDonald slaying and felt genuinely informed on the topic. Prior to the binge, I knew that McDonald, a 17 year old boy, had been murdered by a police officer and that the killing had been captured on a police dashcam. However, I didn't know that not only was the video made available to the public after withholding it for a year, but that the video's contents revealed the officer had shot the teenager a total of 16 times. Not only that, but other officers had been present at the crime scene and none tried to stop the cop from firing after McDonald fell, nor did any intervene to help the young man. If nothing else, because of my voracious readings on the controversy, I feel confidently knowledgeable on the topic.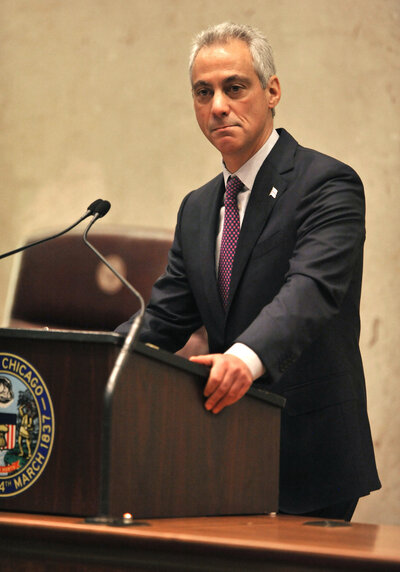 Rahm Emanuel addressing the public in response to the Laquan McDonald slaying
In terms of the fast, I personally preferred it to the binge. I felt infinitely more productive when I had free time to either relax, read, work on homework or hang out with friends as opposed to just mindlessly scrolling through my phone. For instance, I noticed that I finished homework much quicker when I wasn't taking breaks to look on my phone or browse on my computer.
The one test that did feel a little strange was not having my phone on me 24/7. Usually, I always keep my phone in my pocket or purse, especially when I'm walking to class because I always listen to music as I go. It felt a little funky not having with me, making me wonder if anyone was trying to reach me and couldn't or something else along those lines. Also, I had some friends ask me if I was okay since they noticed I wasn't messaging them or snapchatting or anything like that for a few days. They took my not being connected as my being perhaps upset or sad, sort of like they thought I was isolating myself which was definitely an unforeseen side effect of the fast.
In all, the exercise proved to be more enlightening and interesting than I initially gave it credit for. I think it can be an eyeopening experience, highlighting the importance of balance in our technologically saturated world of today.